Offer custom merch with an Online Shop for your school spirit!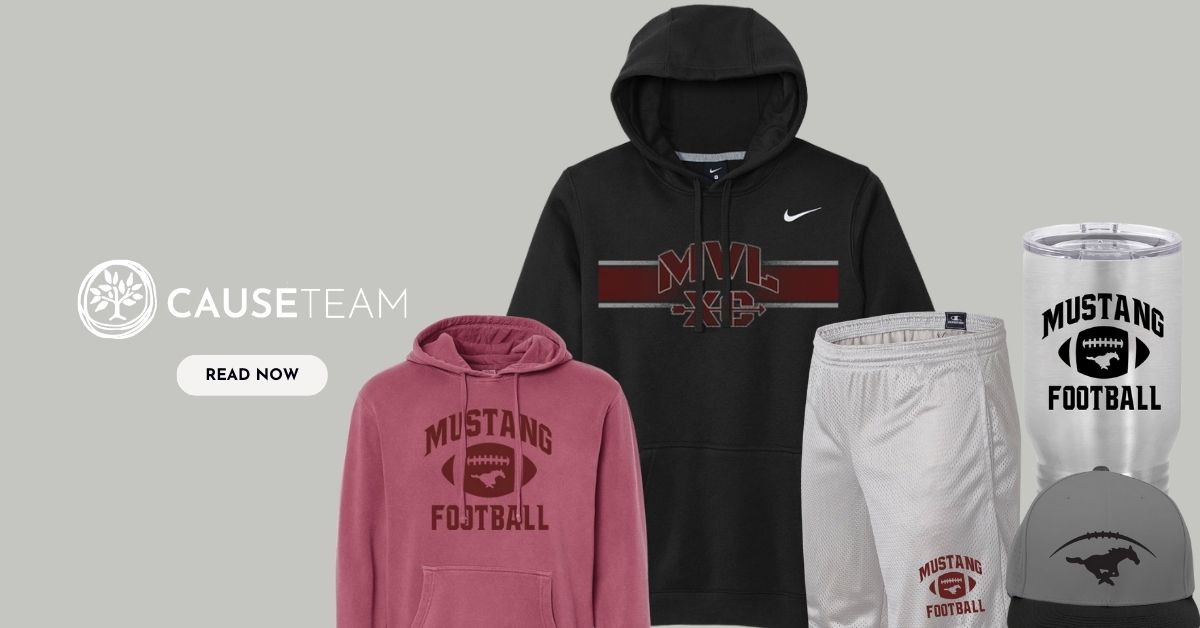 ---
In today's digital age, an online shop powered by CAUSETEAM is the perfect platform to connect with your school community and beyond. It allows you to showcase a multitude of products, tailored to suit various tastes and preferences. From cozy hoodies that keep school pride alive during chilly game nights to custom mugs that fuel students with motivation, the merchandise options are boundless.
Convince is key.
An essential feature of an online shop is its convenience. With just a few clicks, anyone can access the store, browse through an array of products, and order the ones they love. Whether it's a freshman eagerly looking for their first piece of school memorabilia or a parent wanting to show support, an online shop caters to everyone, fostering a strong sense of unity.
Endless Options
At the heart of any vibrant school spirit shop lies the diversity of choices. CAUSETEAM understands this need for variety like no other. Your school's unique identity can be brought to life with an exciting array of designs, ranging from classic and timeless to modern and edgy. This ensures that every member of your school community can find something that resonates with them, truly encapsulating the essence of belonging.
Colors play a pivotal role in reflecting school pride. An extensive color palette allows the creation of designs that pop and speak volumes about your institution's spirit. From the traditional colors that have stood the test of time to trendy shades that capture the current fashion fit, the possibilities are as limitless.
We keep it hassle-free.
Designing an exceptional school spirit shop might sound like a daunting task, but fear not! CAUSETEAM is here to shoulder the burden and turn your vision into reality. From conception to execution, we handle every aspect of the process, leaving you with more time to focus on other essential tasks.
1. Design: CAUSETEAM houses a team of creative wizards who understand the importance of translating your school's identity into striking designs. They work collaboratively, ensuring that the end product reflects the true essence of your institution's spirit.
2. Set-Up: Building an online shop from scratch can be overwhelming, but CAUSETEAM has it all under control. Leave the techy stuff to us! We guarantee it will be a seamless and user-friendly experience for your customers.
3. Production: With CAUSETEAM, quality is never compromised. Our attention to detail ensures that each product is crafted with the high-quality merch, resulting in becoming an instant favorite for life.
4. Shipping: Bid farewell to shipping woes! CAUSETEAM manages the logistics of delivering products directly to your customers, saving you time and effort.
5. Payments: Finances can be complex, but CAUSETEAM simplifies the process with secure and reliable payment systems, assuring both you and your customers peace of mind.
Unity 101
When your school's spirit shop is up and running, something magical happens - it becomes a hub of unity and belonging. Students wear their merchandise with pride, parents cheer on their children with branded gear, and alumni rekindle old memories with nostalgic pieces. This sense of togetherness extends beyond the school walls, uniting the entire community under one shared spirit.
Moreover, your online shop can be a powerful tool to fundraise for various school initiatives. (Simply just ask to learn more!)
In the end, igniting your school spirit with an online shop is a powerful way to foster unity, pride, and camaraderie among your students, parents, and alumni. With the tireless support of CAUSETEAM, your vision of a vibrant, top-quality merchandise store is easily brought to life. So, with the new school year approaching, let's work together, shall we?